Unique, Original, Handmade, Paper Cut Artistry
I'm a South Australian based emerging artist specialising in hand cut paper based artistry.
All artwork, decor and gifts are inspired by our environment and created for you with love and care.
ONLINE STORE UPDATE COMING END OF AUGUST, UNTIL THEN FIND MY WORK AT.......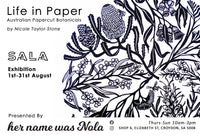 Life in Paper - SALA Festival Exhibition 2020
I'm excited to be sharing my first exhibition as part of the SALA Festival 2020. Presented in this unique venue, browse amongst an amazing curation of Australian artisan designed home wares and jewellery.
This work is inspired by the iconic Australian botanical environment. Recently our natural environment has been a source of loss, pain and devastation through fire however it has also provided a place of calm, relief, escape, healing and strength through times of pandemic and isolation.
Using paper itself as the primary and often sole medium, the pieces are all hand cut with blades using traditional paper cutting techniques. From something solid it becomes an intricate and seemingly fragile new reality, whereby the physical removal and absence of material gives rise and emergence to a new image from what remains.
The Process....
Located in the urban fringe of Adelaide South Australia my work is largely inspired by those urban and natural landscapes. Each piece starts as a sketch drawn by hand. The designs are then transferred to archival quality acid free 160gsm paper, using surgical blades the design is carefully cut by hand ensuring these pieces are truly unique.
View Original Collections available now